NEWS
26th Sept 2022
Moray West Offshore Wind Farm Secures Critical Foundations Infrastructure From Global Energy Group
Moray West Offshore Wind Farm has signed a contract for complex elements of foundation structure with Global Energy Group (GEG). The multi million pound contract is for the supply of the two J-tube frames that will be attached to the two foundations holding the offshore substation platforms (OSPs). The frames are approximately thirty-seven (37) metres in length and eleven (11) metres in diameter and support the steel tubes that will protect the cables coming into the OSPs from the wind turbines as well as the cable exporting the power to shore. The cables are buried in the seabed around the OSPs.

Global Energy Group will fabricate the J-tubes at the quayside fabrication facilities at its Port of Nigg facility situated in the Cromarty Firth, supporting 50 jobs locally. Loadout will benefit from the high quality deep water port facilities that the Port of Nigg has to offer.
This contract marks the latest step in finalising the full supply chain for the project and represents a significant success for GEG and the Scottish supply chain. The contract reflects the positive long term relationship between Ocean Winds and GEG following contracts for Moray East offshore wind farm around marshalling and pre-assembly of the foundations and wind turbine components. Moray West has previously announced that the Port of Nigg will be used by Siemens Gamesa for marshalling and pre-assembly of the wind turbines in 2024. The J-tube contract boosts fabrication capability in the Scotland to supply the growing sector, including future Ocean Winds projects.
Moray West is firmly committed and on track to delivering low cost renewable energy, supporting the UK and Scottish renewable targets and providing households with access to low cost low carbon electricity.
Adam Morrison, Country Manager for UK for Ocean Winds, said:
"In the challenging global supply chain context that we find ourselves we are pleased we have concluded this contract with GEG for local fabrication of these key, technically difficult, foundations structures. We look forward to working with GEG on the delivery and their continuing work around the regional skills transition, enabled by projects such as Moray West."
Iain Sinclair, Executive Director at Global Energy Group, said:
"As we develop and grow our offshore wind supply chain value proposition, GEG can leverage existing core competencies such as the fabrication of critical components to accelerate the transition of knowledge and skills. We are delighted to be working with OW and the Moray West team and this project award gives confidence to invest for future growth at the Port of Nigg."
Moray West
Project Status & History
Moray Offshore Windfarm (West) Limited, known as Moray West, is a fully consented offshore wind project off the coast of Scotland. The project has secured a Corporate Power Purchase Agreement (CPPA) for a significant proportion of its output and a CfD for 294 MW from AR4.
The development of Moray West follows on from the delivery of the adjacent Moray East offshore wind farm, which won a CfD in 2017 with a dramatic 50% cost reduction compared to CfD awards in 2015 and is now fully operational with 100 x 9.5MW wind turbines.
Project History
2010 – Development of Zone 1 the Moray Firth commenced when development rights were won in the UK's 3rd round of offshore wind licensing. The zone was split into two, to enable Moray East to be developed ahead of Moray West, as there were constraints in the west of the zone. Constraints in the west eased, and development of Moray West commenced in 2016.
2018-19 – Planning consents secured from Scottish Government, Moray Council and Aberdeenshire Council.
2022 –Construction works commence onshore, announcement of large CPPA, success in AR4 of CfD and contracts concluded.
Project Ownership
The Moray West project is being developed by Ocean Winds. Ignitis Group has a minor shareholding.
Ocean Winds is the result of a 50-50 joint venture between EDP Renewables (EDPR) and ENGIE. Empowered by its clean and endless wind energy, Ocean Winds is one of the most important developers of offshore wind farms globally, with a presence in 8 countries, and several projects in operation, construction and development. In the United-Kingdom, it is also the majority shareholder of Moray East, Scotland's largest offshore wind farm.
Ocean Winds has recently been awarded exclusive rights by Crown Estate Scotland to develop a bottom-fixed offshore wind project targeting a capacity of 2 GW, now named Caledonia, adjacent to the existing Moray East and Moray West seabed lease area.
Project Statistics
Size: Installed capacity of 882MW from 60 x SG 14-222 DD wind turbines to be supplied by Siemens Gamesa.
Location: Moray Firth, Scotland, over 22km from the coastline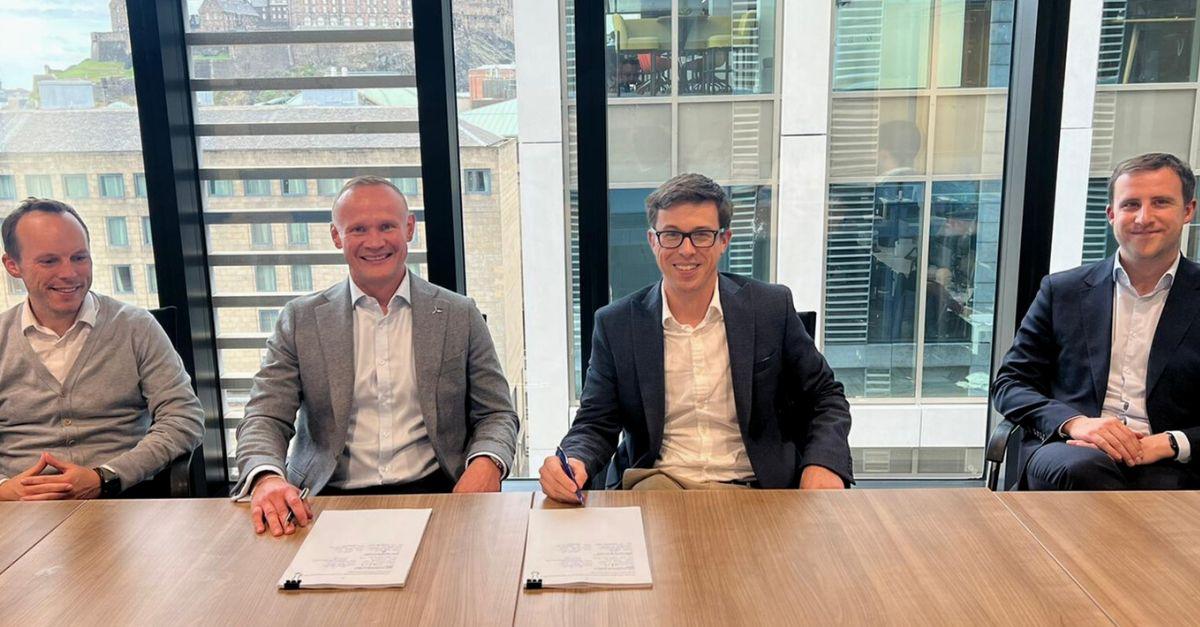 Pictured Left to Right: Stuart Owen (Head of Tendering & Proposals at Global Energy Group), Iain Sinclair (Executive Director of Renewables and Energy Transition), Adam Morrison (Project Director for Moray West Offshore Wind Farm at Ocean Winds) and Peter Haughie (Head of Commercial for Moray West Offshore Wind Farm at Ocean Winds).