NEWS
30th Nov 2022
Hazard Observation Card Award: £1,000 Donated to RNLI Invergordon Lifeboat Station
In partnership with Seaway7 and Seagreen Wind Energy Limited, we're delighted to announce that the winner of November's monthly Hazard Observation Card Award is Paul Ross, Marine Operator for Global Port Services, who has chosen RNLI Invergordon Lifeboat Station, as the recipient of the £1,000 local charity donation.
RNLI lifeboat crews protect hundreds of communities around the UK and Ireland through a 24-hour search and rescue service. The Invergordon lifeboat station was established in 1974 as an ALB station, which was part of the RNLI policy of providing more intensive lifeboat coverage off the North-east of Scotland.
Mike MacDonald, Press Officer and Crew Member for RNLI Invergordon Lifeboat Station, said:
"We are delighted and privileged to be receiving this donation, which will help train new and existing crew within the station and onboard our Shannon Class Lifeboat which arrived in November 2020 in memory of man donor Agnes AP Barr, also holding 9500 names on her hull as part of RNLI's Launch a Memory."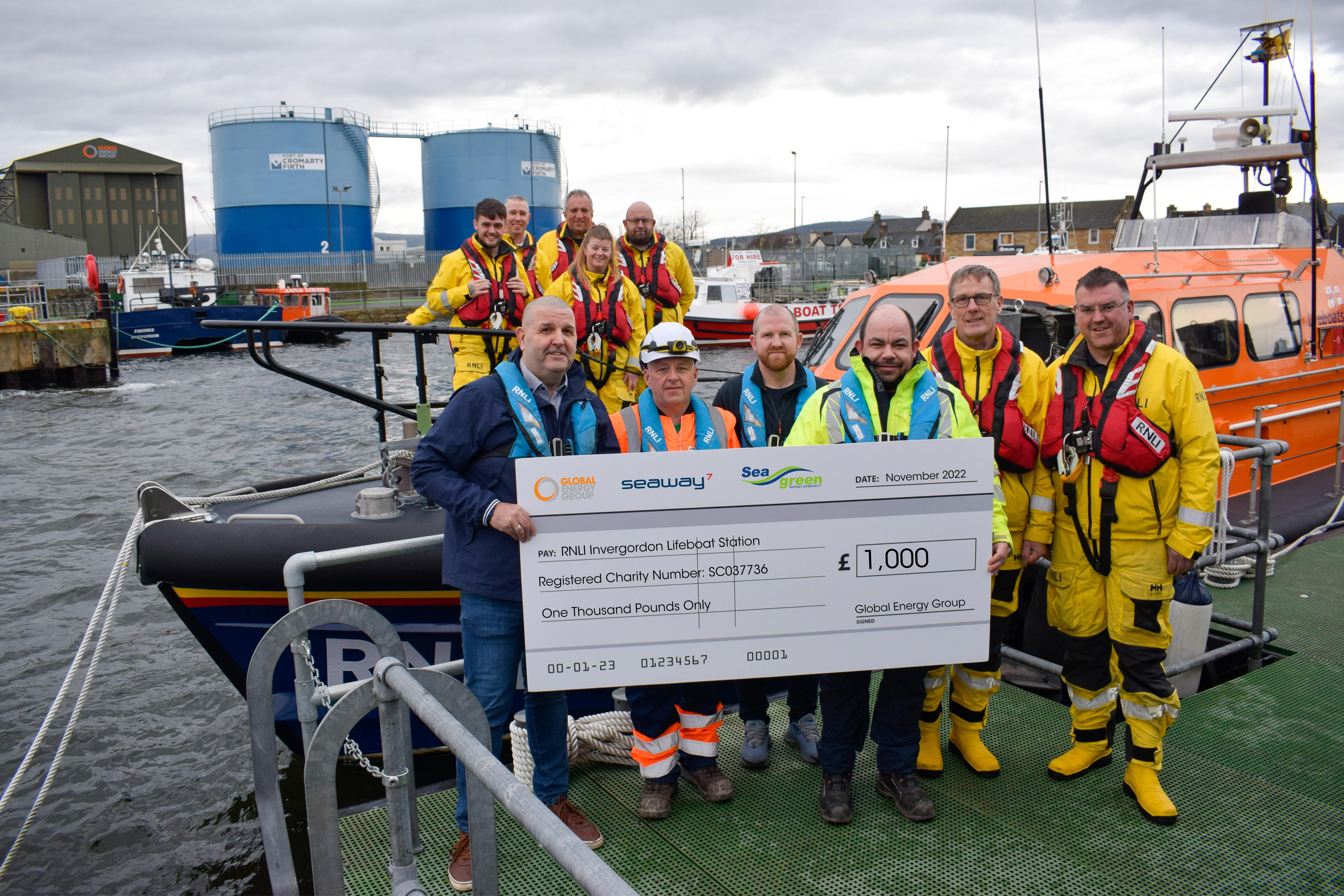 Pictured:
Charlie Morrison, Operations Director, Global Energy Group
Paul Ross, Marine Operator, Global Port Services
Martin Johnston, Seagreen Marshalling Site Manager, Seaway 7
Richard Sutherland, Seagreen QC Client Representative, SSE Renewables
Andrew Murray, Coxswain, RNLI Invergordon
Neil Ross, Deputy Coxswain, RNLI Invergordon
Reece Porter, Crew Member, RNLI Invergordon
Scott Walker, Crew Member, RNLI Invergordon
Jessica Boughey, Crew Member, RNLI Invergordon
Rob Hellett, Crew Member, RNLI Invergordon
Michael MacDonald, Crew Member, RNLI Invergordon

Uncompromising Approach to Safety
The Monthly Hazard Observation Card Award was developed by Seaway7 (client of Global Energy Group) and the Seagreen project team which is a joint venture between TotalEnergies and SSE Renewables. Seaway7, the main contractor for the Seagreen renewable energy project, elected our Easter Ross port facility as the storage, marshalling, and logistics base for 114 turbine structures that will form Scotland's largest offshore wind farm.
If a potential hazard or improvement is identified at our Port of Nigg facility, employees and contractors can submit a Hazard Observation Card to their team leader. Each month, the best card is chosen and the person who submitted it is asked to nominate a charity to receive a £1,000 donation. Global Energy Group, Seaway7 and Seagreen each contribute a third of the monthly donation.
The Monthly Observation Card Award scheme, which is set to run until the end of the Seagreen project, aims to promote a 'safety first' and 'open culture' among employees and contractors involved with the project at the Port of Nigg. As administrators of the Hazard Observation initiative, Global Energy values the safety of everyone who works for or with the Group. We continually strengthen our safety culture and believe that, given the right leadership and communication, all incidents are preventable.